Som lovet ville jeg lige komme ind på de opgaver man skal have godkendt i løbet af A-træner uddannelsen – bare rolig, hvis du læser dette for at få kunne downloade/se en godkendt opgave, så må jeg desværre skuffe dig :). Jeg vil dog give lidt hints til hvorledes jeg har løst de enkelte opgaver, men det fulde svar må du selv slide dig til!
I løbet af uddannelsen skulle vi have godkendt følgende opgaver:
10 ugers fysisk træning
Spillestil
Halvårs kalender
PAEI profil
Supervision (praktik)
Kampanalyse
Fælles spillestil i den gruppe man er en del af
3 gode råde til dine medkursister i gruppen
På studieturen er der diverse præsentationer
Jeg vil gennemgå hver opgave i detaljer nu og enkelte steder vil du kunne se eksempler på hvordan jeg har løst opgaven samt mine anbefalinger.
10 ugers fysisk træning
Er vel ubestridt den opgave langt de fleste kursister hader mest! Formålet er at lave en 10-ugers oversigt, hvor du laver en overordnet oversigt, hvor du får hver uge laver en fordeling af træningstiden i aerob-, anarob- og styrketræning.
Derudover skal du for 2 uger laver en udspecificeret træningsplan, hvor de enkelte træningspas er inddelt i de ovenstående kategorier med tilhørende øvelser.
Hvis du er i tvivl om du har lavet det detaljeret nok, så har du ikke gjort netop dette :).
Spillestil
Dette er en af de mest spændende opgaver overhovedet (synes jeg), det er jo her du får mulighed for at beskrive, hvorledes dit hold skal agere i fht. spillestilsbolden.
Det er her du har mulighed for at fodboldnørde og virkelig gennemarbejde hvad du tror du mener.
Tanken er at en anden træner – givet din spillestil – skal kunne gå ud på træningsbanen og træne derefter. Så undgå stikordsform og forsøg i stedet at ramme et passende prosa-niveau.
Jeg har vedhæftet min beskrivelse for forsvarsspil. Husk at der kan være forskel på de enkelte instruktører i fht. detaljegraden.
Halvårs kalender
I alt sin simpelhed skal der udarbejdes en kalender for et halvt år, hvor samtlige træningspas (sted, start- og sluttidspunkt), træningskampe, kampe m.m., skal stå.
Dette er en rimelig simpel og ligetil opgave og rent faktisk har de fleste trænere nok en sådan oversigt i den ene eller anden form alligevel.
PAEI profil
Er vel nok den mindst smertefulde opgave!
Det eneste du som kursist skal er at udlevere 5 skemaer (ala dem du havde på B-uddannelsen) til 5 relevante personer, fx din assistenttræner, sportschef eller lignende og derefter skal du blot indsamle dem igen og aflevere til din instruktør.
Husk at påføre både dit navn og udfylderens navn på spørgeskemaet…
Fælles spillestil
Under studieturen skal gruppen udarbejde en fælles spillestil, det er faktisk en rigtig god mulighed for at få diskuteret en masse fodbold.
Det er vigtigt at spillestilen bliver gennemarbejdet godt og grundigt, da det er denne spillestil man skal træne medierne efter på midtuge-forløbet – så sørg for at der er god sammenhæng i tingene!
Kampanalyse/scouting
En af de primære ting, der arbejdes med på studieturen er analyse af kampe samt scouting af spillere.
Man ser en masser kampe og bliver ligeså langsomt klædt på til at lave ens scouting opgave samt en analyse af en kamp den sidste dag.
Det gælder om at få udvælge 2-3 ting man vil fokusere på i kampen og så følge de ting 100% til døren.
Et godt råd: sørg for at have styr på kampfakta, fx dato, målscorer m.m., og placer disse informationer i toppen, så man har et samlet overblik over kampen med det samme.
Supervision (praktik)
Som en del af uddannelsen skal man have 2 supervisioner hjemme i klubben. Det primære fokus er at træne i HEL-DEL-HEL.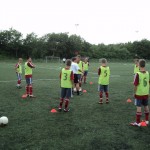 Personligt har jeg nydt at have disse supervisioner, da jeg synes det er rigtig fedt, at få feedback på, hvorledes man klarer sig på træningsbanen.
Min instruktør ville have programmet for træningen dagen før og han gik op i om man så fulgte programmet eller ej. Se mit træningsprogram for den sidste supervision.
3 gode råde til dine medkursister i gruppen
Den sidste opgave man skal have "godkendt" på A-uddannelsen er at man skal aflevere 3 gode råd til hver af sine gruppe-medkursister.
Det er faktisk en af de mere givende ting på uddannelsen, at man hører hvad folk som man har arbejdet intenst sammen med i perioder synes er godt ved dig og hvad du eventuelt skal arbejde videre med.
Et godt råd er at man løbende noterer lidt om hver medkursist og så samler trådene tilsidst.
Jeg håber du har kunnet bruge den ovenstående gennemgang til n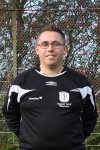 oget – hvis du har nogle spørgsmål, så skriv endelig til mig.